Yingkou Liyuan Group is a private enterprise which mainly produces and manages refractories. Its headquarters is located in Dashiqiao City, Liaoning Province, China Magnesium Capital. Founded in 2017, the Group has formed a good business model of mining, raw materials, production, processing and export sales. It has five factories and one magnesite ore annually under the jurisdiction of Liyuan Refractory (Processing and Sales), Fushun Huijin (Large Crystal Fused Magnesium), Tianlixin (Large Crystal Fused Magnesium), Xiuyan Deming (Light Burned Magnesium Powder), Xiuyan Yiming (Light Burned Magnesium Powder). The total sales amounted to 1 billion RMB, with nearly 400 employees, including more than 50 technical managers.

In Pianling Town, Xiuyan County, the Group has a mine with an annual output of 500,000 tons of high-quality magnesite and abundant reserves. At the same time, it has 22 large crystalline fused magnesia production lines, 6 light burning kilns, 2 processing lines, 3 Raymond mesh number production lines and 1 ball pressing production line. Products are exported to more than a dozen countries, such as Europe, America and Japan. The main export products are large crystalline fused magnesium. At the same time, other refractories such as heavy burnt magnesium, light burnt magnesium, ramming material and spraying material are also exported. Each year, nearly 100,000 tons of main products and more than 30,000 tons of by-products are sold, and the excellent product quality and professional sales service are widely praised by domestic and foreign users.

Several large crystalline fused magnesium products for daily export are listed below.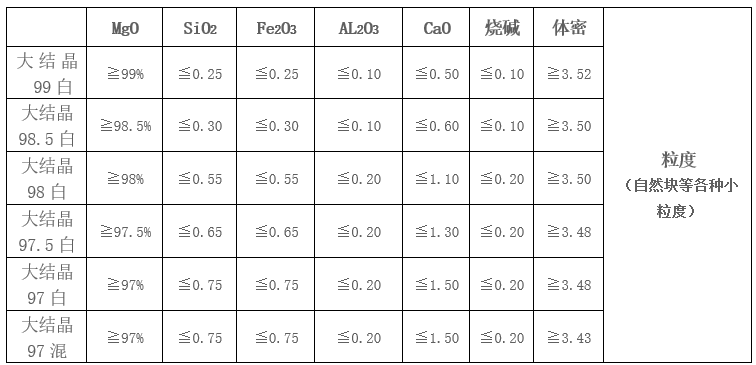 In order to achieve economic benefits, the Group has always upheld the development concept of "environmental protection first, win-win situation in many ways", and built its factories into new environmental protection enterprises. We sincerely hope to cooperate with colleagues from all walks of life at home and abroad to seek common development and create brilliance together.